DON'T HAVE TIME TO READ THE ARTICLE? DON'T WORRY, LET ME SEND YOU A COPY
What is Microsoft Copilot and how does it work?
Microsoft Copilot is Microsoft's latest, much-debated artificial intelligence innovation.
With Copilot, you can generate documents, draft emails, create presentations, and more, all with the help of AI technology.
Okay, calm down. What are we talking about?
Let me reassure you: the first time I heard about Microsoft Copilot, I was bewildered too.
It helps me be more productive, but how exactly?
Does it create PowerPoint presentations for me? Perform calculations or write reports?
Read on, and I'll explain.
So, I decided to chat with some ex-engineer colleagues who work at Microsoft and have tried it firsthand.
I must say, I was amazed! Microsoft Copilot has the potential to be one of the most revolutionary productivity tools in the history of the Office suite.
Enough chatter; let's dive into the details.
Let me show you how it works.
Shocking, isn't it?
Just think about how much easier it could make your life and the hours of work you could save.
Will Microsoft Copilot and artificial intelligence steal my job?
I believe 2023 is a year of technological breakthroughs for humanity.
I imagine these times to be akin to the advent of the internet. I wasn't yet in the world of work during the internet's early days, but I think of my parents and the times they told me how their jobs completely changed with the advent of digital technology.
I believe it's our turn now, and we're experiencing a disruption at least as significant as the one caused by AI. I don't know about you, but I already use several LLMs (Large Language Models) to speed up my work.
I'm currently experimenting with GPT-4, Google Bard, and Stability AI's Vicuna.
I'm sharing screenshots because I'm curious to see how quickly these three chats will seem like ancient history to us!
I find them to be incredibly powerful productivity tools.
Have you tried them yet?
In a nutshell, they are highly intelligent chatbots. They can produce, synthesize, process, and translate text for you in just one click.
I recently posted a video on my YouTube channel where I demonstrate how to create a storyline presentation from a YouTube video that you haven't even had time to watch in full.
Amazing, isn't it?
However, the more I experiment with these models, the more I'm convinced of the importance of knowing how to ask the right questions.
The output they produce is uncanny, but it's impressive how the quality and accuracy can vary depending on the prompt entered.
Artificial intelligence can significantly boost your productivity, but you need to know what to ask and how to do it.
Microsoft Copilot represents the integration of this intelligence into the Office suite, and that's why it changes the way we work.
However, for now, it is a co-pilot, and as such, it needs a driver to guide and accompany it.
So, don't be afraid; learn to use it right away, and it will become your magic wand at work.
Microsoft Copilot, official launch event.
On March 16, 2023, the official presentation video of Microsoft Copilot was published on the Microsoft YouTube channel.
Satya Nadella introduced the topic more broadly, commenting on the future of work with artificial intelligence.
"Have you packed your bags to embark on the journey of human-computer interaction? Hold on to your keyboard, because we're about to take you on a fascinating journey through the evolution of AI and how it's transforming our lives today!

Once upon a time, in 1945, a visionary named Vannevar Bush dared to dream up a futuristic device called the Memex. His incredible idea laid the foundation for what we know today as the human-computer symbiosis. Flash forward through pivotal moments like Douglas Engelbart's "The Mother of All Proofs," the birth of personal computing with Xerox PARC's Alto, and momentous changes like the internet, browsers, and the iPhone, and you'll see just how continued to build an ever closer relationship with our digital companions.

Now, we are embarking on a new era of computation, where AI moves from autopilot to copilot. This new generation of AI will be as empowering as it is powerful, transforming the way we think, plan and act. Imagine a world where AI co-pilots take care of the boring tasks, freeing you up to unleash your creativity and rediscover the joy of creation!

But with great power comes great responsibility. As we approach this new era, everyone involved in the construction, deployment and use of AI must ensure that it aligns with social, cultural and legal norms in a democratic society. Vigorous debate and scrutiny will continue to play a crucial role in shaping the future of AI." – Satya Nadella
Ok nice opening Satya, congratulations.
But now it's time to get hands-on and show you how Microsoft Copilot really works.
How does Microsoft Copilot work?
In a nutshell, we could say that Microsoft Copilot uses advanced AI technology to assist users in generating documents, drafting emails, creating presentations, and much more.
The system is integrated with the Microsoft Office 365 suite, which includes Word, Excel, and PowerPoint. Its strong point is that it is easy to use and accessible to virtually anyone.
You don't have to be an advanced user to benefit from Microsoft Copilot; you just need to know how to chat! OpenAI reached a milestone with ChatGPT, gaining a million users in less than a week—a first in the startup world.
In my opinion, the key to success lies precisely in accessibility; it is easy to use for anyone.
So Maurizio, is Microsoft Copilot just a chat?
Actually, it's much more.
Copilot works by analyzing the content of a document or email and suggesting relevant text and formatting options based on the user's preferences and past behavior.
Can you see the strength of this tool?
In practice, it takes any document present on your SharePoint as input and combines it in the output of your request, which could be a Word report, a PowerPoint presentation, or a summary sheet in Excel.
As a productivity tool that significantly impacts the way we create presentations, it immediately caught my interest.
In general, we can define it as an extremely innovative system that helps users of all levels work smarter and more efficiently.
It's very much in line with Lean principles, so I couldn't resist sharing it on my blog.
To answer your question, in a sense, it is a chat, or rather, you interact with it by chatting and uploading files to its window.
Have you tried ChatGPT, Bard, or OpenAI chat integration on Bing yet?
If you have had those experiences before, you already have a good idea of what it will be like to use Copilot.
Okay, I'm excited. I have to show it to you in action.
Did you watch the video?
Essentially, you draft the text, and Copilot writes it for you.
This makes us much more productive, as we need to think less about the format and can focus on the key points.
Copilot then connects the dots for us.
Would you like to see it at work in PowerPoint? What do you think?
Let's take a look!
In this case, Sumit is creating her daughter's graduation presentation and demonstrates how, just by chatting with Copilot, she can generate the PowerPoint presentation from scratch, rewrite some text, or even replace images.
So, I no longer have to waste time making presentations!
Well, not quite.
If you think about PowerPoint, the sidebar called Designer has been present for years.
You just click, and it automatically creates the slide.
However, let's be honest: how many times have you actually used it?
However, Maurizio, Copilot doesn't just make the slide; it creates the entire presentation.
True, it's as if it were a designer who works on all the slides coherently, though it has its limits.
In the image, the Microsoft Designer is offering me a choice of layouts, but honestly, I don't find them suitable for the slides I want to create.
Of course, if you start with a blank slide and a bulleted list, it's a great tool for setting up the job.
I'll give you an example.
I summarized this slide from a video from which I copied the transcript using GPT-4.
Now I have a slide with content, but clearly, it is not presentable.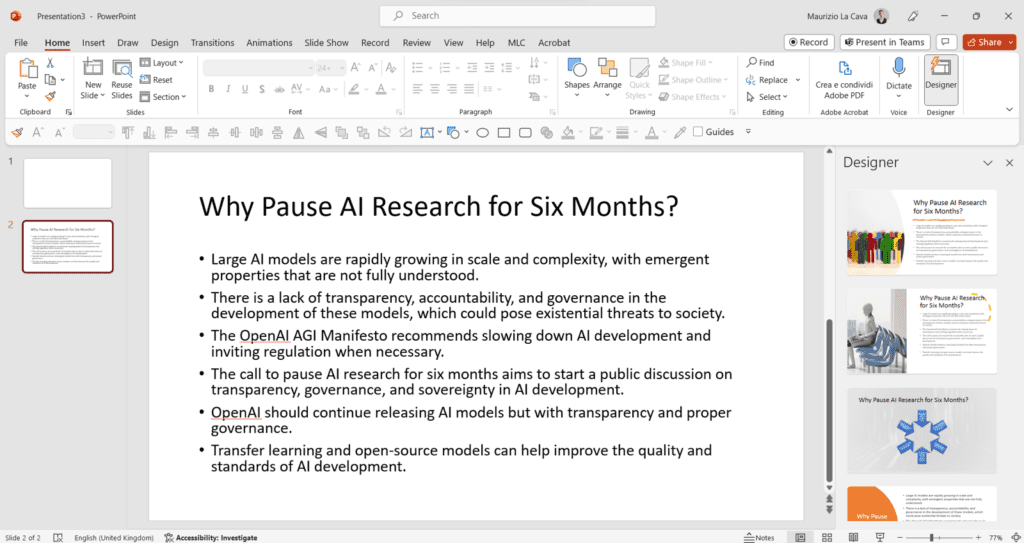 The Designer offers me alternatives, let's try them together.
Here is the first.
Do you like it?
I wouldn't say it's really a Lean slide but it's a start.
Let's try the next one.
In the end, these are semi-finished products.
If you have read my book Lean Presentation Design, you know that we should now work on the slide experience.
How do you think your audience will benefit from this slide? Do you plan to send or present it?
In one case, we can afford more content; in the other, we will probably have to move the bulk of the text to the speaker notes.
What's the first thing the audience's eyes see on your slide? In other words, what is the experience you imagined?
In this case, it is all a wall of text; we will need to work with the principle of contrast to create different levels of reading and facilitate the glance.
As you see, there is some work to be done. I suggest you take a look at this article where I talk about how to leverage neuroscience and perception science techniques to drive the audience's attention with your design – Create PowerPoint presentations with neuro presentation design.
In short, I think Copilot is an excellent starting tool, like any other tool that works with artificial intelligence. It helps you break through the blank page barrier and produces a first draft.
Then it's up to you to finish the job.
How to Create a Business Proposal with Copilot
You attended an initial meeting with a potential new client and took notes directly into OneNote.
During the meeting, you marked all the key information regarding their needs to have all the essential details for creating a tailor-made offer. You have ended the call and need to quickly create the commercial offer document.
As always, you don't have much time; you have other clients to hear from, other offers to make, and the working day won't last forever. Spending time creating a commercial offer from scratch discourages you.
You already know that you will have to disconnect and dedicate at least an hour to it.
Copilot could be your most valuable ally.
I'll show you how to create a commercial offer using your notes taken with OneNote.
So, we merged two inputs: your notes and a Word product roadmap, and Copilot did the rest.
Not bad!
The offer is ready, but you know how I feel about it.
If you want to persuade your audience, there is no better tool than an effective pitch presentation.
But Maurizio, isn't Word enough?
It depends on what you need to achieve.
With PowerPoint, you have the opportunity to give your story a face, associate visuals with key concepts, and impress the message into your audience's memory.
Come on, let's get to work and transform the Word offer into a pitch presentation.
Did you see it?
Just use the Word document as an input, and Copilot creates the presentation automatically.
I remind you again that there will probably be changes to make, but you will certainly have to review and not produce the presentation from scratch; in this way, you will save a good amount of time.
This doesn't mean you're done using Copilot.
In fact, artificial intelligence is a valuable and supportive tool also for the editing part of the presentation.
Watch the next video, I show you.
You've seen how to add a slide automatically, how to redesign a slide that didn't convince you, and bring the text back into the speaker notes to lighten the slide without losing information.
Basically, your presentation is ready to be presented.
The amazing thing is that if you didn't have the time to prepare and wanted to read the speaker notes, you could do it with Nvidia Broadcast.
Wait, Maurizio, what is that?
Nvidia Broadcast is a small free software that allows you to modify your video and audio appearance.
For example, it gives you the ability to fix your eyes directly on the camera with the help of artificial intelligence.
You understood correctly.
You could literally read your notes, and no one would notice because, on the other side, it will appear as if you are staring into the camera. Incredible, right? I tried it, and I can guarantee you that it works great.
Create Excel reports with Copilot
Most presentations in business are data presentations, and this is where Excel comes in and takes over.
So, if you work on business presentations, you will often have both PowerPoint and Excel open on your computer and use them together, each for what it has to offer. But let's get to the point; I'll show you Excel at work.
Do you remember the hours spent analyzing endless tables of numbers in an attempt to get an insight that could explain a phenomenon, substantiate your reasons, or justify a presentation?
From now on, just ask, and Copilot will take care of giving you the answer and, upon request, of creating the complete, already elaborated, and ready Excel dashboard.
The smart application of conditional formatting is also noteworthy.
Conditional formatting is a valuable tool in the process of creating your presentations because it allows you to create contrast and attract people's attention to an exact point in a table or to favor the use of its content.
Features and benefits of Microsoft Copilot
So, what are the benefits of this tool?
One of the key benefits of Microsoft Copilot is its seamless integration with popular Microsoft 365 apps like Word, Excel, and PowerPoint.
It means users can access Copilot's powerful AI capabilities directly within these apps, without having to switch between different programs or interfaces.
For example, when working on a document in Word, users can use Copilot to suggest relevant text and formatting options, making it easier to create professional-looking documents quickly and efficiently.
Similarly, when working on a PowerPoint presentation, Copilot can suggest relevant images, charts, and other visual elements to help users create engaging and effective presentations.
Overall, Microsoft Copilot's integration with Microsoft 365 Apps makes it a versatile and powerful tool for improving productivity and streamlining work processes.
In summary, Microsoft Copilot offers several features and benefits that help you be faster and improve your productivity, not only in making presentations but also in various other tasks.
The system uses advanced AI technology to analyze the content of a document or email and suggest relevant text and formatting options based on the user's preferences and past behavior.
It will help you get more done in less time while improving the quality and accuracy of your work.
Future developments and potential uses of Microsoft Copilot
As an AI-powered assistant, Microsoft Copilot has the potential to revolutionize the way we work and interact with technology.
In the future, we could see Copilot integrated with a wider range of Microsoft apps and services, as well as third-party software and platforms.
This could include everything from social media management tools to project management software, allowing users to access Copilot's powerful AI capabilities in various contexts and applications.
Furthermore, as Copilot continues to learn and adapt to user behavior, we could see it becoming even more personalized and intuitive, offering tailored suggestions and recommendations based on individual preferences and work habits.
Ultimately, the possibilities for Microsoft Copilot are endless, and it will be exciting to see how this innovative technology continues to evolve and shape the future of work.
Conclusions
Microsoft Copilot is a powerful AI-based assistant developed by Microsoft to improve our productivity.
Copilot is designed to provide personalized recommendations and automate repetitive tasks in various Microsoft applications, including Excel, Word, and PowerPoint.
One of the key benefits of Microsoft Copilot is its integration with all Microsoft Office 365 apps. You can access the powerful AI features of Copilot directly within the apps we use every day, without having to switch between different programs or interfaces.
Microsoft Copilot has the potential to revolutionize the way we work and interact with technology.
Since it is based on AI technology, it will be exciting to see its learning curve within our companies' knowledge base and how it will improve productivity.
Clearly, there are important data privacy and security issues that regulators are already working on. It is hoped that both worlds will work together synergistically.
In the end, Microsoft Copilot offers several features and benefits that help increase productivity and streamline work processes.