Why the corporate PowerPoint templates fails and how to make it work?
You've just changed jobs and are given the task of creating a virtual presentation on your company's vision for digital transformation.
You grab pen and paper to write down your ideas, collect information and create a script where you talk about how people are drivers of change and are much faster than companies.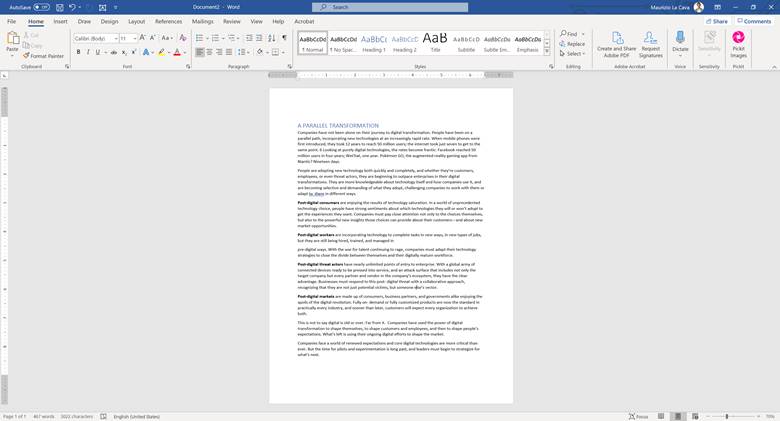 You've finally gathered all the information, now it's time to get it in shape to make it presentable to your superiors.
You open a PowerPoint and find it empty, with the basic Windows template ready to use.
Enter the title, add a subtitle:
Now you're about to create the first content slide.
Stop right now!
Aren't you forgetting something?
I think you are.
Think about it.
It's not just the logo of the company you work for, there's something more, but if you've thought about it, you're on the right track.
What am I talking about?
The branding of the presentation!
There will be thousands of other managers who have been creating presentations for years, do you think it would be confusing if everyone drew freely without respecting the brand guideline?
What are brand guidelines?
Every structured company has a marketing and communication department that is responsible for laying the groundwork for how the brand should be consistently reflected in communication media.
In this case, for example, in your presentations.
The presentation you're working on is Accenture's vision 2019 presentation on digital transformation.
Look how it's presented online.
Can you see there's visual consistency between the slides? Forget for a moment whether it's good or bad.
You'll agree with me that it's consistent, right?
Usually in a company the brand guideline is defined within a brand book, a mega PDF file that tells you how the logos, colors, fonts, etc. should be used.
In concrete terms, in order to facilitate the creation of presentations, all this takes the form of a PowerPoint corporate template.
Here is your first ally: the corporate PowerPoint templates.
Usually the template includes a set of ready-to-use layouts, a general skeleton applied to each layout and often contained in the theme within the master slide and, in the case of more advanced templates, a set of graphical assets (icons, logos, maps, flags, etc…)
Let's try to use a corporate PowerPoint template (which I recreated for this example) to redesign your slides.
The main slide has a title and a subtitle so, browse the available layouts in the corporate template and look for a cover.
Enter title and subtitle in the ready-made fields.
To complete the layout, you need to fill the image placeholder to give it an impact background.
You can search for images online, but to make sure you find it quickly, free and in high resolution I suggest you to use MLC PowerPoint Addin.
Open the image panel and choose one that is consistent with the meaning you want to convey.
The slide is ready!
Notice the difference between the work done without the template and the work with the template.
Do you realize how much time you are saving while achieving higher quality results?
Good corporate PowerPoint templates allows you to create consistent presentations, consistent with brand guidelines, getting quality slides in a short time.
Do you know why?
It's simple!
Because it saves you time and the ability to view content and create a layout. In fact, whoever designed it has already thought of it for you and you just need to use the work already done by others.
It sounds great to have corporate PowerPoint templates, doesn't it?
Too bad that in most cases, corporate templates are experienced as a constraint rather than an opportunity.
How so?
The corporate PowerPoint template is a tool that generates efficiency following a significant standardization of the choice of available layouts.
However, it is impossible for the designer to predict all the possible use cases that users will need. Have you ever worked with a PowerPoint template that never has the layout you need?
Standardizing also means to cast aside alternatives in order to generate efficiency.
However, this should not be a limitation for you to create effective presentations in a short time.
The mistake stems from the fact that PowerPoint templates are often created by the graphics agency and dropped from above onto the corporate population without considering the real needs and the way users work (top-down approach).
Corporate PowerPoint templates fail mainly for 2 reasons:
Graphic agencies develop them top down without taking into account the real cases of use of presentations in the company;
Users are not trained in the complementary use of the PowerPoint slide master.
If you need to create a new PowerPoint template for your company, learn how to choose an agency that really listens and understands the needs of your audience.
How?
You'll see it right away when you commission the work.
In fact, I think the right approach is to start from a need's analysis (bottom-up approach) and not from applying brand guidelines to a generic PowerPoint file.
When an agency has to create a corporate template, the first thing it should ask for is access to the most common presentations the company works on.
This way it is possible to analyze the type of information and the way it is communicated. Once the similar slides have been collected, the reference layouts are created to optimize their graphic and communication effectiveness.
Can you see that by doing so you are starting from the real needs of the users?
This will ensure that, when users have to choose a layout to create their presentation, they will orient themselves and find exactly what they need or almost need…
Almost exactly!
Although you can get closer with a bottom-up approach, you should always keep in mind that there will be an unforeseen case in the PowerPoint template.
For example, if you have a 6-point agenda slide but you need 5 points and that layout is not in the template, it's up to you to create it.
That is, create it from scratch?
Absolutely not!
This is exactly the right time to take advantage of the work done by your agency to save you time and creativity.
Imagine working on a new presentation and having to create a 5-point agenda. In the company PowerPoint template, you only have the 6-point agenda (as shown in the figure below).
If you try to select the number 6 to delete it, you won't succeed.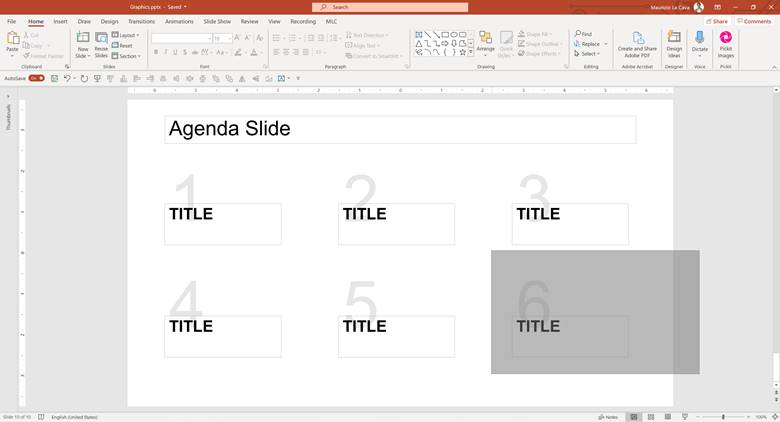 You will select the text placeholder but the 6 will remain fixed.
Why?
We usually don't ask why, and we proceed with the classic white rag technique. That is, we cover the 6 with a white rectangular shape and pretend it never existed.
If you've done this at least once in your life, don't worry, you're not the only one.
However, I would like you to understand and know PowerPoint from now on, and make the best use of this tool to extend and evolve PowerPoint template applications.
How?
Simple, let me explain.
The PowerPoint template is drawn in the slide master of the presentation. If you don't know what I'm talking about, read the guide I wrote to the slide master Slide master powerpoint: the complete guide to make the best use of it.
Once you master the tool, this step is quite simple.
Enter the master, identify the agenda layout and, from this screen, delete placeholders and group 6 text box.
Now, when you exit the master slide, you can fill in your new agenda slide with 5 bullets.
Attention!
When working on a corporate PowerPoint template, you must be careful not to delete or mess up officially approved layouts.
For this reason, before you make any changes to existing layouts and customize them according to your needs, I suggest you duplicate the existing layout you want to modify and apply the changes to its copy.
This way, the PowerPoint template that the agency will create for you will no longer be a point of arrival for business presentations, but a starting point that people will be able to develop in a coherent way, respecting the brand guidelines and according to their own needs.
You will be able to ask the agency for a six-monthly intervention to get back in shape and align the new alternatives that will be created.
So, a PowerPoint template is a collection of starting layouts on which users can work to build their presentations.
There is more.
In fact, a good PowerPoint template, in my opinion, should also include a set of graphical assets that are functional to the creation of presentations.
What am I talking about?
For example, vector icon sets, flags, vector maps, etc.
With icons, for example, I always like to include some that I think are significant for future users of the template I'm developing.
So, at the end of PowerPoint I always include a slide with a selection of ready-to-use vector icons.
You can also enrich it and increase the icons or choose others that you think are more significant.
I suggest you read the Complete guide to using the icons in PowerPoint that I wrote.
If we imagine developing this slide for the Accenture presentation that we've taken as an example, we might have the following image.
So, let's try to use the corporate template imagined for them to solve the slide you built at the beginning of this article.
As you can see, it is a bulleted list with 4 points and at least three levels of reading, namely: the title of the slide, the title of the list point and its description.
This type of slides is quite recurrent in company presentations, so we can assume that, during the analysis phase, the agency had developed a layout like the one shown in the picture.
Just copy the most significant information from the slide you created into this corporate layout.
Do we really want to compare the starting slide and the one obtained after applying the company PowerPoint template?
There's no comparison!
The most incredible thing, however, is the time you need to make such effective slides – you only need very little time, because the layouts have already been prepared for you in the PowerPoint template.
Conclusion
So how do you create a really effective business PowerPoint template?
First, starting from the real needs of the users in the company, avoiding a beautiful design decided from the top but not very functional and rigid in its use.
Secondly, you need to spread culture on the slide master, for example, I have built workshops dedicated to part of the training activities I perform in the company.
Finally, I believe that a good template should be culturally considered a starting point and not a finish one.
How do you feel about your corporate PowerPoint template?